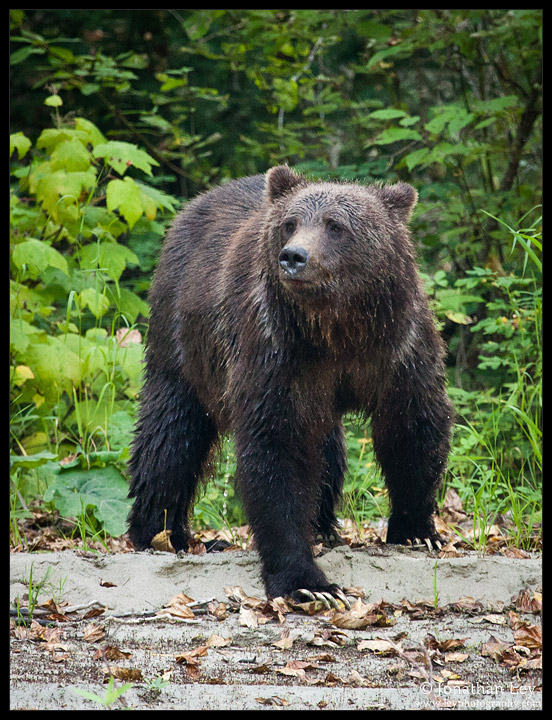 Halfway up the British Columbia coast – between Vancouver and Prince Rupert – is a wild locale that's easy to miss, but impossible to forget – Bella Coola.  The complex geography of this area is a jumbled mix of long fjords, glaciated mountains, huge lakes, thick forests, roaring rivers… you name it. The difficult terrain is part of the reason Bella Coola is the only populated settlement on the mainland for about a hundred miles north or south. It's also the reason only about 2000 people call this place home; it's an isolated and difficult place to live. The name "Bella Coola" refers to the 50-something mile long valley, the town of Bella Coola at the water's edge, and foremost to the First Nation tribe who calls this place home.
Getting there
You can drive to Bella Coola. It's about a 1.5 – 2 day drive from Vancouver, over mostly good  (and lonely) roads. There is a 40-mile stretch of gravel as the road rolls through a section of Tweedsmuir Provincial park, and then down the 18% grade of Heckman Pass. It's a bit hairy, but the road's surface is well-maintained. This route (the Freedom Road) is critical to the residents of the valley.
You can also take a ferry to Bella Coola until about mid September. It's a 24-hour ride to (or from) Port Hardy. The scenery is outstanding… provided it's not raining or cloudy. If money is not a concern, but time is, you can also fly to Bella Coola… If you're going with the sole purpose of seeing bears and have made arrangements to travel within the valley, this can be a the most practical option.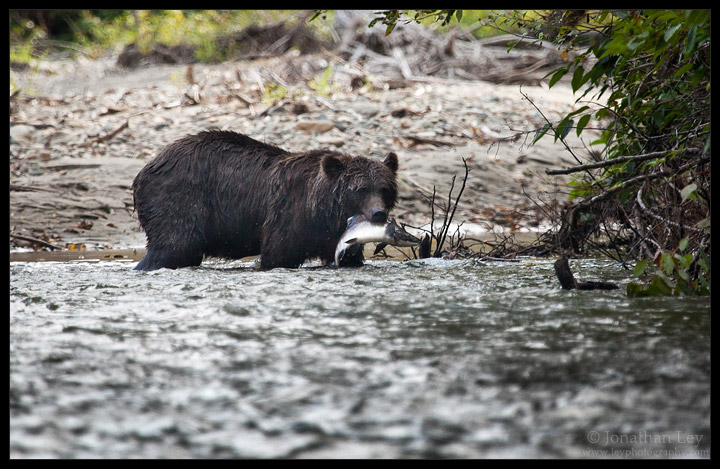 The Bears
The Bella Coola valley still retains much of its wild character – including healthy populations of both Black and Grizzly bears. Each year from about August through October, salmon fill the waterways – heading up to shallow spawning grounds. This annual bounty of easy protein attracts both types of bears from the surrounding mountains.
While you can spot bears just about anywhere in the valley, they mostly stick to where the fishing is easiest.  The bears need clear water to see the fish, and shallow water to catch them. The Bella Coola River is deep and clouded with glacial silt, but there are plenty of other streams in the valley. The most reliable area to spot bears is about 40 miles from the ocean, where the clear and shallow Atnarko River flows into the cloudy Bella Coola. There are other similar rivers, but the Atnarko is logistically easier to travel along, and is proven to be a reliable place to spot bears.
The valley is home to healthy populations of both Grizzly Bears and Black Bears. The Black Bears tend to be very skittish and opportunistic. They love the fish too, but will usually settle for whatever they can get (dead fish, left-overs, etc). While you might see black bears in the valley, they'll take notice of you and run. The Grizzlies know they're king of the  hill, and don't mind being visible. The Bella Coola Grizzlies have much darker fur than Grizzlies in other areas. At first glance, you might have difficulty verifying what you're seeing. But, the Black Bears in the area are jet black, and once you see one, you'll know it's no Grizzly.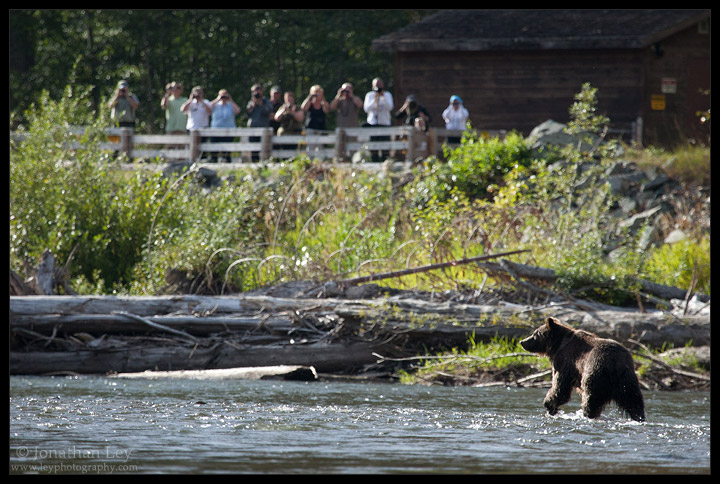 Seeing the Bears
About 7-8 miles from the start of the slope up to Heckman Pass, the BC wildlife service has installed a viewing platform along the Atnarko River. This platform is protected by an electric fence, and staffed from about 7am to 7pm during peak season. You might be skeptical of how good a shot you can get from such a stationary platform, but it's right at a bend in the river with a clear view in both directions. For whatever reason, this particular stretch of the river is paritcularly popular with the bears. You might have to wait for quite a while for a bear to show up (bring mosquito repellent), but it's a decent and reliable vantage point. The bears can get quite close, so you may be happy to have the electric fence!
If you're looking for some different views and a little more mobility, you might consider a guided boat trip down the river. Starting in 2012, these will more tightly regulated, to better balance the demands of tourism with the the needs of the bears. In essence, the number of allowed trips will be similar to what they were in recent years… but future "boat jams" on the river will be prevented. The boat trips start just upstream from the bear viewing platform, and continue just a few miles to a boat launch at a campground. This doesn't seem very far, but it's prime bear habitat, and good guides know the best places to wait for bears. The bears are more active in the early morning, and near dusk. So, you might want to plan your trip accordingly. Expect a tour to take a couple hours.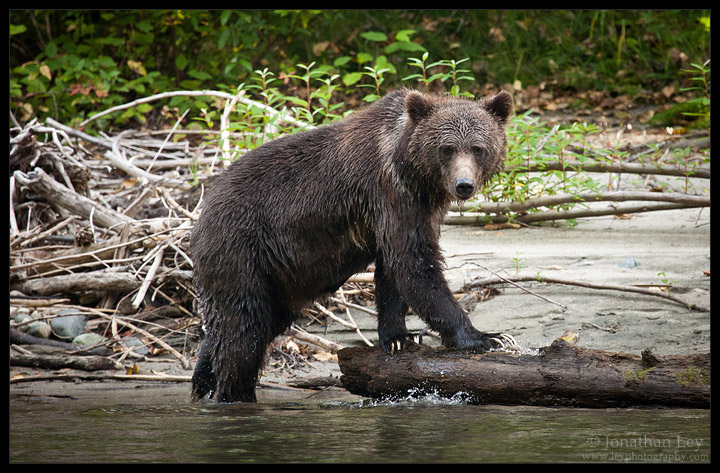 As of this writing, there are 2 active companies doing the tours. One of them uses MacKenzie drift boats – wooden boats with two swivel seats at the bow. The guide controls the boat with oars. This setup gives you a nearly 360 shooting angle, and direct communication with the guide… It's also simply more peaceful.  But it costs more. The other company uses inflatable river rafts that hold 6-8 people. The river in this area is usually 5 feet deep or less, and not whitewater (of course, these conditions can vary widely). You can book trips well in advance, but it's certainly practical to book only up to a day in advance if you're not sure of your travel plans.
The guide I used (with a drift boat) had been doing this for many years. His record was seeing 8 bears "at once", and he'd only been "skunked" twice.
Remember that the health of the bears, and wild nature of the area is the first priority.  The guides will try to keep their distance as not to disturb the bears natural behavior. Ideally, the bears shouldn't even notice the human interlopers.  Though, sometimes a closer encounter is impossible to avoid – the river isn't very wide, and if a bear is headed your direction, there are only so many options. If you do get close to a bear, the guides will keep the boat moving… so shoot quickly!
Photography
Whatever your longest lens is, bring it. As with  most wildlife photography, you can never get close enough. While you might get some decent shots with 200mm, you'll be a lot happier with 300-400mm options (or longer if you have it). To capture some of the fast movements of the bears, you're going to want a shutter speed of about 1/400th of a second. In order to get that shutter speed, you're mostly likely going to be shooting with the aperature wide open… and at a higher ISO. My recommendation is to determine what exposure settingsyou need to use, switch your camera to manual exposure, and lock-in that exposure. This will prevent accidental metering mistakes at critical times. For example, if you meter on a dark bear, you might not get the exposure you intended. Make sure you have plenty of available memory, and leave the flash at home – it's not allowed on the boats, or on the platform.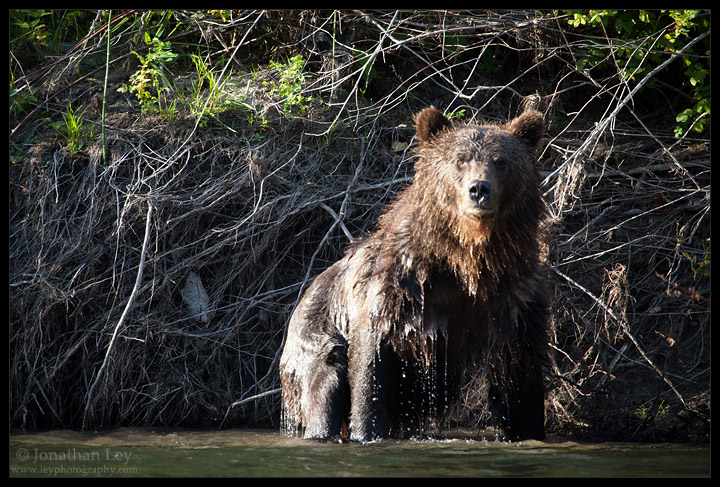 More images from the Bella Coola valley are in my gallery here.